About Us
Masala'z Indian Takeaway is a Indian takeaway in Plymouth. Why don't you try our King Prawn Korma or Tikka Curry?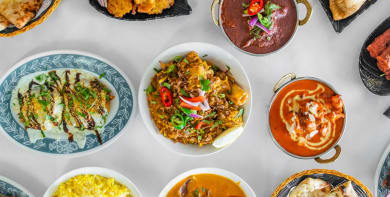 Reviews
83 reviews
Carla
"Absolutely amazing food. Lovely delivery driver and food was superb."
24/07/2021
Karen
"Great food, reasonable and timely- what's not to like⭐!"
21/07/2021
David
"Very nice indeed, thoroughly enjoyed my meal."
17/07/2021
Katrina-marie
"Great fast delivery Thanks"
16/07/2021
Menu
Tandoori Mix Set Meal For 1 - Chicken Bhuna
Mixed starter
Chicken OR lamb bhuna
Sag aloo
Pilau rice
Naan bread
£13.95
Chef's Special Set Meal For 2
Poppadom
Chicken tikka starter
Onion bhaji
Chicken tikka masala
Chicken madras
Bombay aloo
2 Pilau rice
Garlic naan bread
£22.95
Balti Special Set Meal For 1 - Chicken Balti
Tandoori chicken starter
Poppadom with chutney
Chicken balti
Bombay aloo
Pilau rice
Naan bread
£13.95
Onion Bhaji
Sliced onion mixed with gram flour, spiced & deep fried
Vegetarian
£2.45
Samosa Meat
Spiced & stuffed in thin pastry
£2.45
Samosa Vegetable
Spiced & stuffed in thin pastry
£2.45
Chicken Chaat
Sliced chicken with mild spice, served with salad
£3.45
Aloo Chaat
Spiced potatoes, served with salad
Vegetarian
£2.75
Aloo Puree
Spiced potatoes with deep fried puree
Vegetarian
£2.75
Chicken Tikka Starter
Diced chicken marinated with spices & cooked over charcoal
£2.95
Lamb Tikka Starter
Diced lamb marinated with mild spices & cooked over charcoal
£3.45
Tandoori Chicken Starter
Chicken marinated in yoghurt & spices, cooked over charcoal
£2.95
Seekh Kebab Starter
Minced lamb blended with coriander, fresh herbs, made like a sausage
£2.95
Shami Kebab
A blend of minced lamb, spices, lentils & fresh herbs, shallow fried
£2.95
Prawn Puree
Spiced prawns served on a deep fried puree
£3.45
Prawn Cocktail
Prawns with cocktail sauce & salad
£2.95
King Prawn Butterfly
Deep fried king prawns in chick flour
£3.95
Hot & Spicy Starter - Chicken
Cooked with chilli, peppers & special herbs
Hot
£3.95
Chicken Pakora
Spicy chicken fried in batter
£3.95
Mixed Kebab
Lamb tikka, chicken tikka & seekh kebab
£3.95
Tikka Main Chicken
Diced chicken OR lamb marinated with mild spices & cooked over charcoal
£6.45
Tikka Main Lamb
Diced chicken OR lamb marinated with mild spices & cooked over charcoal
£6.45
Tandoori Chicken Main
Half chicken marinated in yoghurt & spices, cooked over charcoal
£6.45
Tandoori King Prawn Main
King prawns marinated in mild spices & cooked over charcoal
£9.95
Tandoori Mixed Grill
An assortment of tandoori dishes served with naan
£8.95
Shashlik Chicken
Marinated chicken OR lamb with tomato & green pepper, cooked in clay oven
£6.95
Shashlik Lamb
Marinated chicken OR lamb with tomato & green pepper, cooked in clay oven
£6.95
King Prawn Shashlik
King prawns with tomato & green pepper, cooked in clay oven
£9.95
Hot & Spicy Main Chicken
Chicken OR lamb cooked with chilli, peppers & special herbs
Hot
£6.95
Hot & Spicy Main Lamb
Chicken OR lamb cooked with chilli, peppers & special herbs
Hot
£6.95
Balti Mushroom
Hot
Vegetarian
£4.95
Balti Vegetable
Hot
Vegetarian
£4.95
Tikka Masala Chicken
In a mild creamy sauce flavoured with almonds
Mild
£6.95
Tikka Masala Lamb
In a mild creamy sauce flavoured with almonds
Mild
£6.95
Pasanda Chicken
In fresh cream, yoghurt with mixed ground nuts & herbs
Mild
£6.95
Pasanda Lamb
In fresh cream, yoghurt with mixed ground nuts & herbs
Mild
£6.95
Chilli Masala Chicken
Tikka in a hot cream sauce with green chillies (hot)
Very hot
£6.95
Chilli Masala Lamb
Tikka in a hot cream sauce with green chillies (hot)
Very hot
£6.95
Tandoori Chicken Masala
Boneless tandoori chicken cooked in a mild sauce with almonds
Mild
£6.95
Tandoori King Prawn Masala
Tandoori king prawns in a mild sauce with almonds
Mild
£9.95
Makhani Chicken
Mildly sauced roasted in a clay oven
Mild
£6.95
Makhani Lamb
Mildly sauced roasted in a clay oven
Mild
£6.95
Mougul Chicken
Flavoured with cream & almonds
Mild
£6.95
Mougul Lamb
Flavoured with cream & almonds
Mild
£6.95
Karahi Chicken
Cooked with spices & tossed in an iron souk
Hot
£6.95
Karahi Lamb
Cooked with spices & tossed in an iron souk
Hot
£6.95
Tikka Bhuna Chicken
Browned onions, tomato, spices, garlic & ginger
Medium
£6.95
Tikka Bhuna Lamb
Browned onions, tomato, spices, garlic & ginger
Medium
£6.95
Jalfrezi Chicken
Diced, cooked in hot spices & green chilli
Hot
£6.95
Jalfrezi Lamb
Diced, cooked in hot spices & green chilli
Hot
£6.95
King Prawn Korahi
King prawns cooked in spices & tossed in an iron souk
Hot
£9.95
King Prawn Jalfrezi
King prawns cooked with hot spices & sliced green chilli
Hot
£9.95
Shahi Akbori Chicken
Cooked with prawn cocktail sauce (medium hot)
Medium
£6.95
Shahi Akbori Lamb
Cooked with prawn cocktail sauce (medium hot)
Medium
£6.95
Masalaz Special Curry
Chicken, meat, prawn & king prawn cooked in spices
Medium
£8.95
Garlic Chilli Dish Chicken
Cooked with fresh garlic & chillies
Hot
£7.45
Garlic Chilli Dish Lamb
Cooked with fresh garlic & chillies
Hot
£7.45
Jaipuree Chicken
With egg, tomato & medium spices
Medium
£7.45
Jaipuree Lamb
With egg, tomato & medium spices
Medium
£7.45
Special Korma Chicken
Cooked with fresh cream & coconut milk
Mild
£7.45
Special Korma Lamb
Cooked with fresh cream & coconut milk
Mild
£7.45
Special Pasanda Chicken
Fresh cream, coconut, garlic & ginger
Mild
£7.45
Special Pasanda Lamb
Fresh cream, coconut, garlic & ginger
Mild
£7.45
Delhi Karahi Chicken
Medium
£7.45
Achari Chicken
Cooked in a hot spicy & sour sauce with Indian pickles
Medium
£7.45
Achari Lamb
Cooked in a hot spicy & sour sauce with Indian pickles
Medium
£7.45
Shatkora Chicken
Cooked in medium spicy & sour sauce with Bangladeshi citrus fruits
Medium
£7.45
Shatkora Lamb
Cooked in medium spicy & sour sauce with Bangladeshi citrus fruits
Medium
£7.45
Naga Chicken
Extremely hot curry cooked with naga (hot Indian chilli) in thick sauce
Very Hot
£7.45
Naga Lamb
Extremely hot curry cooked with naga (hot Indian chilli) in thick sauce
Very Hot
£7.45
Rajeshori Chicken
Hot sauce with green chilli, garlic, tomatoes, garnished with coriander
Hot
£7.45
Rajeshori Lamb
Hot sauce with green chilli, garlic, tomatoes, garnished with coriander
Hot
£7.45
Peshwari Chicken
Mango flavoured rich & creamy with coconut, almonds & sultanas
Mild
£7.45
Peshwari Lamb
Mango flavoured rich & creamy with coconut, almonds & sultanas
Mild
£7.45
Moducas Chicken
Cooked with yogurt, almond, coconut, honey & mango
Mild
£7.45
Moducas Lamb
Cooked with yogurt, almond, coconut, honey & mango
Mild
£7.45
Tandoori Chicken Biryani
Medium
£8.95
Chef`s Special Biryani
Chicken & lamb tikka & king prawns
Medium
£8.95
Tikka Biryani Chicken
Medium
£8.95
Tikka Biryani Lamb
Medium
£8.95
King Prawn Biryani
Medium
£10.95
Biryani Mushroom
Vegetarian
£6.95
Biryani Vegetable
Vegetarian
£6.95
Tikka Curry Chicken
Medium
£6.95
Madras Mushroom
Hot
Vegetarian
£5.45
Madras Vegetable
Hot
Vegetarian
£5.45
Vindaloo Chicken
Very hot
£5.95
Tikka Vindaloo Chicken
Very hot
£6.95
Tikka Vindaloo Lamb
Very hot
£6.95
King Prawn Vindaloo
Very hot
£8.95
Vindaloo Mushroom
Very hot
Vegetarian
£5.45
Vindaloo Vegetable
Very hot
Vegetarian
£5.45
Rogan Josh Chicken
Medium
£5.95
Tikka Rogan Josh Chicken
Medium
£6.95
Tikka Rogan Josh Lamb
Medium
£6.95
King Prawn Rogan Josh
Medium
£8.95
Rogan Josh Mushroom
Medium
Vegetarian
£5.45
Rogan Josh Vegetable
Medium
Vegetarian
£5.45
Tikka Bhuna Chicken
Medium
£6.95
Bhuna Mushroom
Medium
Vegetarian
£5.45
Bhuna Vegetable
Medium
Vegetarian
£5.45
Tikka Dupiaza Chicken
Medium
£6.95
Tikka Dupiaza Lamb
Medium
£6.95
King Prawn Dupiaza
Medium
£8.95
Dupiaza Mushroom
Medium
Vegetarian
£5.45
Dupiaza Vegetable
Medium
Vegetarian
£5.45
Tikka Pathia Chicken
Medium
£6.95
Pathia Mushroom
Medium
Vegetarian
£5.45
Pathia Vegetable
Medium
Vegetarian
£5.45
Tikka Dansak Chicken
Medium
£6.95
Dansak Mushroom
Medium
Vegetarian
£5.95
Dansak Vegetable
Medium
Vegetarian
£5.95
Sag Mushroom
Medium
Vegetarian
£5.95
Sag Vegetable
Medium
Vegetarian
£5.95
Sag Paneer
Medium
Mild
Vegetarian
£5.95
Tikka Malayan Chicken
Mild
£6.95
Malayan Mushroom
Mild
Vegetarian
£5.45
Malayan Vegetable
Mild
Vegetarian
£5.45
Tikka Garlic Chicken
Medium
£6.95
Garlic Mushroom
Medium
Vegetarian
£5.75
Garlic Vegetable
Medium
Vegetarian
£5.75
Bombay Chicken
Fairly hot, dry & spicy cooked with egg & potato
£6.45
Bombay Lamb
Fairly hot, dry & spicy cooked with egg & potato
£6.45
Sag Chicken
Fairly hot, cooked with spinach with special sauce
£6.45
Sag Lamb
Fairly hot, cooked with spinach with special sauce
£6.45
Kashmir Chicken
Cooked with banana & special medium to mild sauce
£6.45
Kashmir Lamb
Cooked with banana & special medium to mild sauce
£6.45
Brinjal Chicken
Fairly hot cooked with aubergine
£6.45
Brinjal Lamb
Fairly hot cooked with aubergine
£6.45
Chana Chicken
Fairly hot cooked with chickpeas
£6.45
Chana Lamb
Fairly hot cooked with chickpeas
£6.45
Ceylon Chicken
Sweet, sour & hot cooked with coconut
£6.45
Ceylon Lamb
Sweet, sour & hot cooked with coconut
£6.45
Mattar Paneer
A vegetarian dish, cooked with Indian cheese, fairly hot
Vegetarian
£6.45
Sag Paneer - Main
A vegetarian dish cooked with spinach & Indian cheese, mild
Vegetarian
£6.45
Mixed Vegetable Bhaji
Dry
Medium
£2.95
Mushroom Bhaji
Fresh mushrooms
£2.95
Sag Bhaji
Fresh spinach, herbs & spices
£2.95
Bhindi Bhaji
Fresh ladies fingers
£2.95
Bombay Aloo
Potatoes cooked
£2.95
Sag Aloo
Spinach & potatoes
£2.95
Tarka Daal
Lentils fried in garlic
£2.95
Brinjal Bhaji
Fresh aubergines
£2.95
Sag Paneer
With fresh spinach & paneer
£3.50
Vegetable Korma
Very mild
£3.50
Mixed Vegetable Bhaji Side
Dry (medium)
£2.45
Mixed Vegetable Bhaji Main
Dry (medium)
£4.45
Mixed Vegetable Curry Side
Medium
£2.45
Mixed Vegetable Curry Main
Medium
£4.45
Mushroom Bhaji Side
Fresh mushrooms (medium)
£2.75
Mushroom Bhaji Main
Fresh mushrooms (medium)
£4.75
Sag Bhaji Side
Fresh spinach, herbs & spices
£2.75
Sag Bhaji Main
Fresh spinach, herbs & spices
£4.75
Cauliflower Bhaji Side
Medium
£2.75
Cauliflower Bhaji Main
Medium
£4.75
Chana Bhaji Side
Chickpeas (medium)
£2.75
Chana Bhaji Main
Chickpeas (medium)
£4.75
Bhindi Bhaji Side
Fresh ladies fingers (medium)
£2.75
Bhindi Bhaji Main
Fresh ladies fingers (medium)
£4.75
Pumpkin Bhaji Side
Medium
£2.95
Pumpkin Bhaji Main
Medium
£4.95
Bombay Aloo Side
Potatoes cooked (medium)
£2.75
Bombay Aloo Main
Potatoes cooked (medium)
£4.75
Sag Aloo Side
Spinach & potatoes (medium)
£2.75
Sag Aloo Main
Spinach & potatoes (medium)
£4.75
Aloo Gobi Side
Potatoes & cauliflower (medium)
£2.75
Aloo Gobi Main
Potatoes & cauliflower (medium)
£4.75
Tarka Dal Side
Lentils fried in garlic (medium)
£2.75
Tarka Dal Main
Lentils fried in garlic (medium)
£4.75
Brinjal Bhaji Side
Fresh aubergines (medium)
£2.75
Brinjal Bhaji Main
Fresh aubergines (medium)
£4.75
Sag Paneer Side
With fresh spinach & paneer (medium)
£3.50
Sag Paneer Main
With fresh spinach & paneer (medium)
£4.50
Egg Bhuna Side
Boiled egg (medium)
£2.95
Egg Bhuna Main
Boiled egg (medium)
£4.95
Vegetable Korma Side
Very mild
£2.75
Vegetable Korma Main
Very mild
£4.75
Keema Naan
With mince meat
£2.45
Peshwari Naan
With coconut
£2.45
Indian Wrap Chicken
Sliced chicken OR lamb & salad
£4.95
Indian Wrap Lamb
Sliced chicken OR lamb & salad
£4.95
Chicken Fried Rice - Small
Small
£3.95
Chicken Fried Rice - Large
£5.95
Vegetable Rolls
Vegetarian
£4.95
Mixed Roll
Lamb & Chicken with Salad
£5.45
Chips & Omelette
Please write your chosen topping for omelette in the comments box
£3.95
Indian Wrap
Sliced chicken or lamb & salad
£4.95
Contact Us
Find Us
99 King Street, Stonehouse, Plymouth, PL15JA
We deliver to
PL1, PL2, PL3, PL4, PL5, PL6